Nreal's Air glasses have taken the United States by storm with their stripped-down design and impressive streaming capabilities. These glasses were initially unveiled for Asian markets last year, but are now available on Amazon for $379. The Air glasses are designed for Android users, but with an additional $59 dongle, iPhone users can also join in on the fun. The glasses are a cheaper alternative to Nreal's Light glasses, which launched for $599 in the US last year.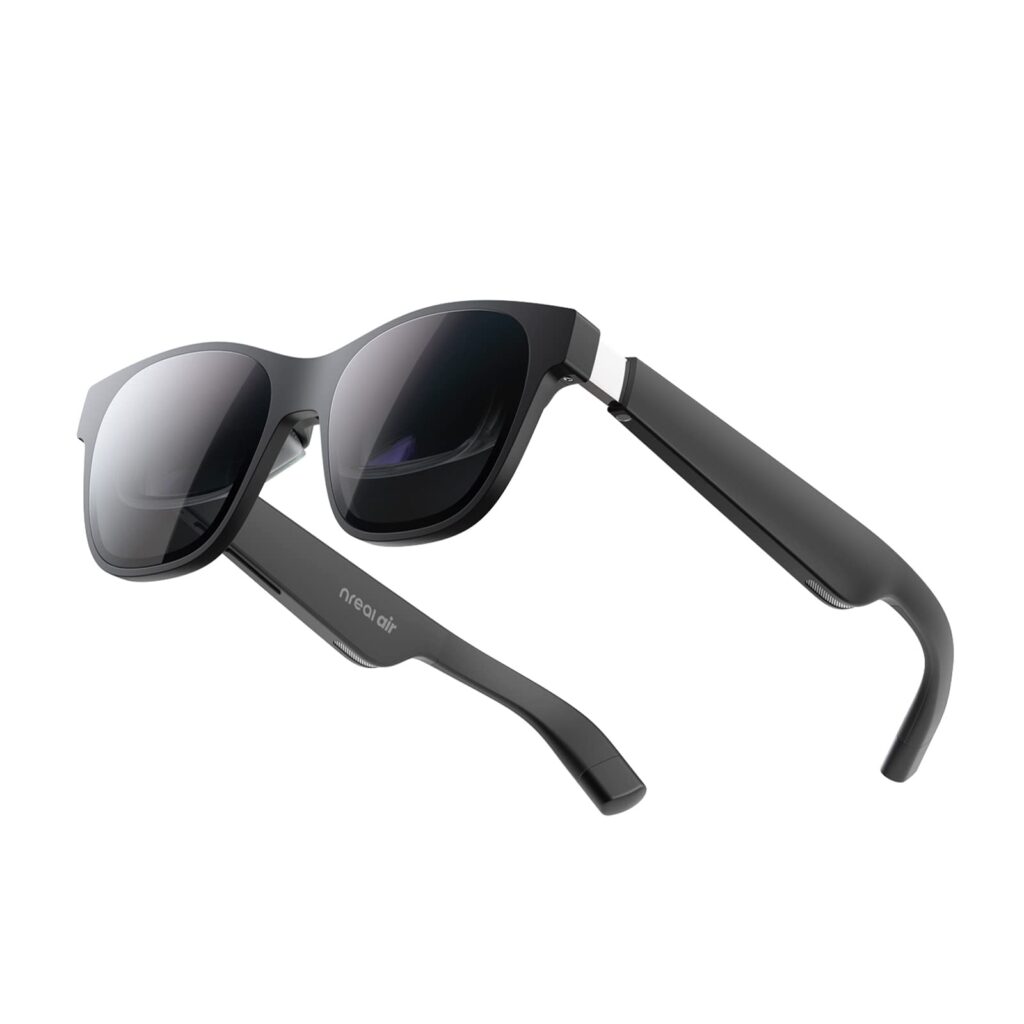 The Air glasses are smaller and lighter than the Light glasses, but still provide a comfortable wearing experience with good build quality. They are camera-free and only track a user's rotation, which makes them much more affordable than their fuller-featured counterpart. With a field of view of 46 degrees, these glasses consume 50 percent less power than the Light glasses, making them an excellent choice for streaming video.
Nreal's Air glasses are a unique gadget that offers a truly immersive HD cinema experience. When plugged into a phone or computer, the Air glasses offer the equivalent of watching a 130-inch screen from three meters away or a 201-inch screen from six meters away. They also enable users to stream games on Android from services like Xbox Cloud Gaming and Steam. These glasses project images in front of the user without blocking the rest of their vision, so they can maintain situational awareness while watching TV.
The Air glasses offer most of the features that users loved in the Light glasses, but at a much lower price point. However, the controls can be a bit clunky, and the glasses are only compatible with a limited list of phones. Additionally, the glasses can drain the user's phone battery quickly, and the Nreal adapter required for iPhones costs $49.
Despite these drawbacks, the Air glasses are one of the few affordable headsets on the market, making them an excellent option for early adopters. They are perfect for streaming services like Netflix and YouTube, and provide a unique way to kill time while riding the subway or taking a long flight.
Nreal's Air glasses are primarily constructed of plastic, with a lightweight chassis that weighs just 2.78 ounces (79 grams). The glasses are designed to look like a regular pair of sunglasses, but with the top portion of the frame being much thicker to house the dual OLED displays. The glasses cannot be worn with regular glasses, but a frame is included to add prescription lenses.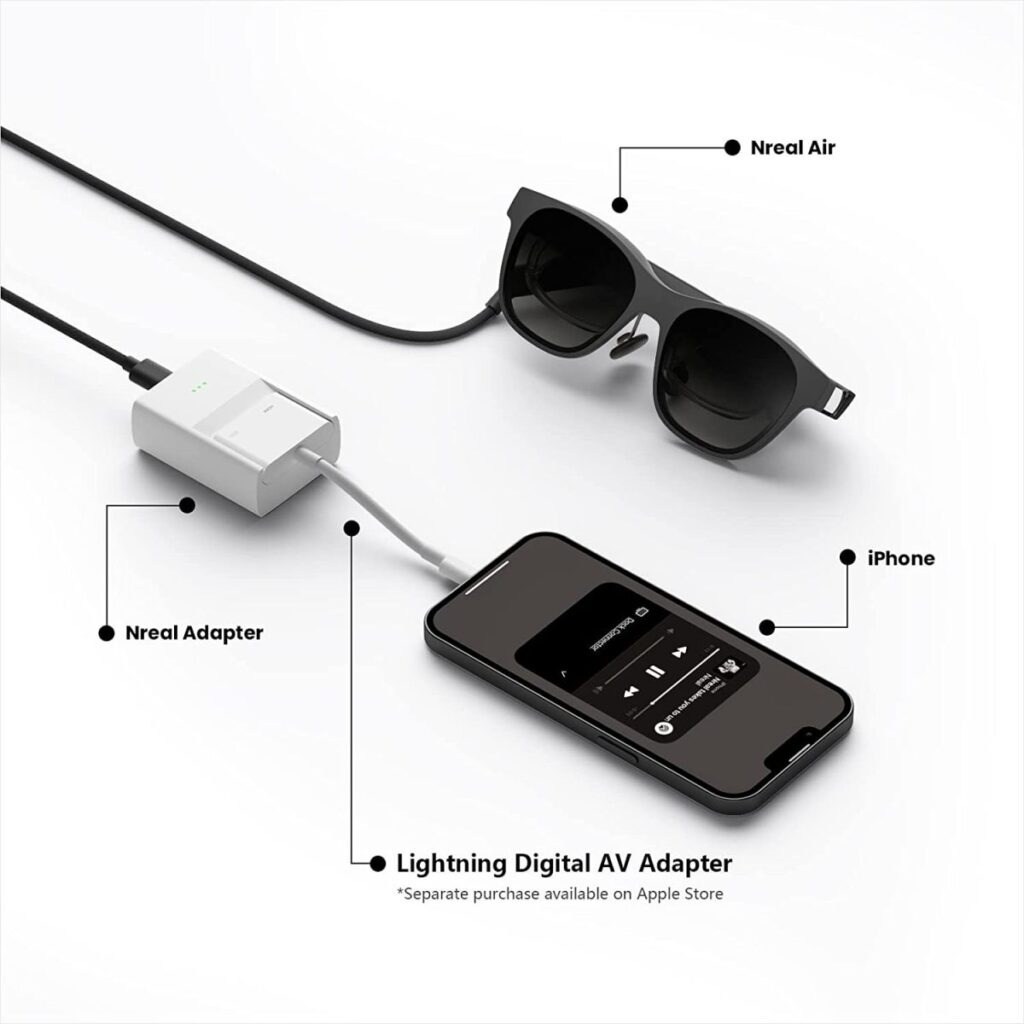 The arms of the glasses are thicker than what is found on a typical pair of sunglasses due to the need to support internal electronics, including a pair of integrated speakers, a power button, and a rocker switch for controlling the display brightness. The glasses also feature a USB Type-C port at the end of the left arm for connecting to an Android device, Windows PC, or M1 Mac.
If users want to connect to a game console, iOS device, or anything that doesn't have a USB-C port, they must purchase a separate Nreal Air adapter ($59) with HDMI connectivity. The adapter features an integrated battery that provides up to three hours of playback, and users can go from 0 to 40 percent battery in 30 minutes using a USB-C charger. However, iOS users will also need to purchase an Apple Lightning to Digital AV Adapter ($49) if they don't already have one.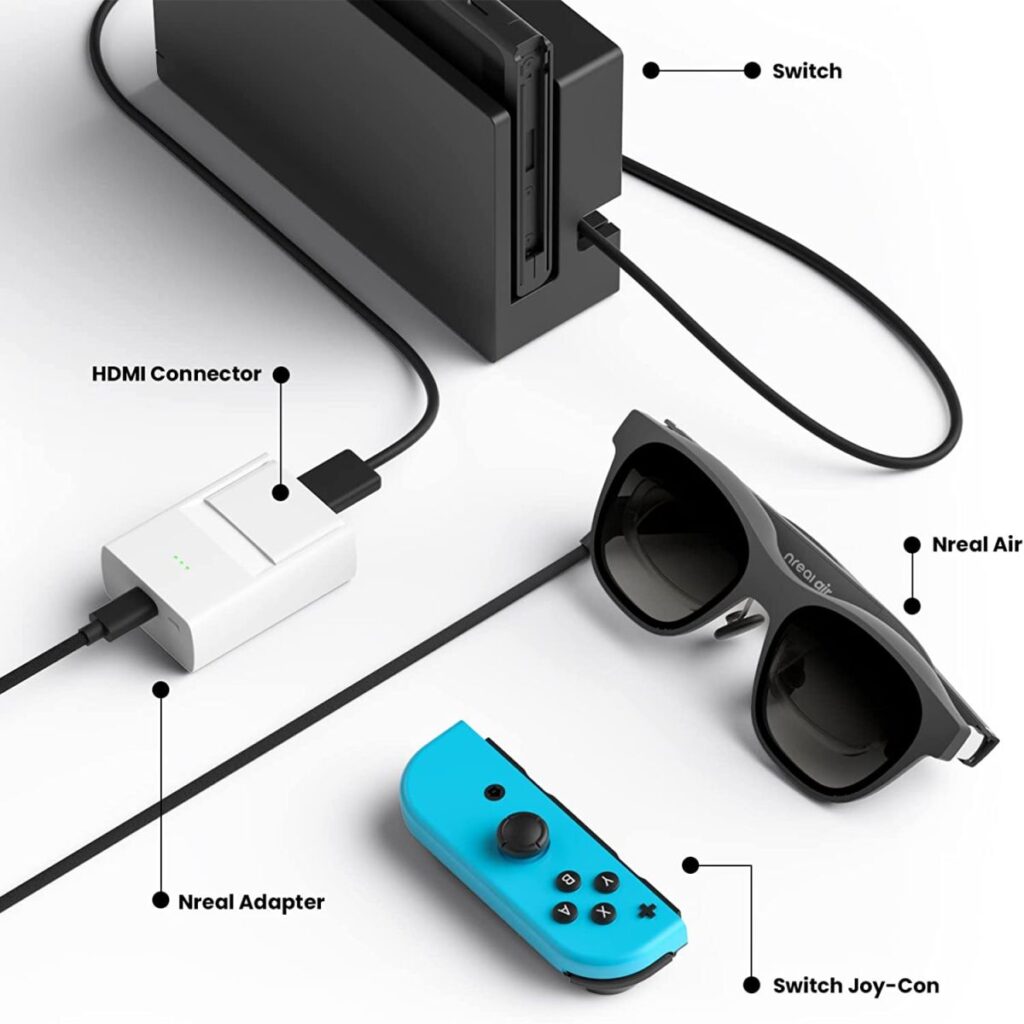 The Air glasses project a 130-inch virtual screen 4 meters away with Air Casting mode, providing an enjoyable way to consume content like movies/TV shows and playing games. The glasses do not completely fill the user's field of view, so they can still see the environment around them in their periphery. The integrated speakers do a decent job with sound, but using a set of wireless earbuds or headphones is recommended.
One of the standout features of the Nreal Air glasses is their lightweight design, which makes them comfortable to wear for extended periods of time. The glasses also offer an immersive HD cinema experience, allowing you to stream movies and TV shows in a virtual theater-like setting. Additionally, the glasses look like a normal pair of glasses and have a lightweight chassis with good build quality, making them durable and easy to wear.
The Nreal Air glasses also offer solid image quality, providing a true "big screen" viewing experience. However, it's worth noting that the glasses have a very limited list of compatible phones, which could be a major drawback for some users. Additionally, the controls can be a bit clunky, and the glasses can drain your phone's battery fast. Moreover, the Nreal adapter costs $49, which is an additional expense for users who want to connect the glasses to their device.
Despite some of these limitations, the Nreal Air glasses are a compelling option for those looking for an affordable AR headset that can provide an immersive media experience. While they may not offer the same level of functionality as the Nreal Light, they still offer many of the same features at a lower price point.
In conclusion, the Nreal Air is a solid follow-up to the Nreal Light, offering a cheaper alternative with a more streamlined design. While they may not have all the features of a true AR headset, they're an excellent choice for streaming media and playing games. If you're in the market for a pair of affordable AR glasses, the Nreal Air is definitely worth considering.