Whether you're a photographer looking to restore old photographs, a designer working on a pixel-perfect project, or a casual user aiming to enhance social media images, AI-powered image upscalers can dramatically improve the clarity and detail of your visuals. In this blog post, we will delve into the fascinating world of AI-driven image enhancement, comparing the best image upscaler options available today and exploring how these cutting-edge technologies can help you bring new life to your pictures. Buckle up, and let's get started on this journey to transform your visuals into high-resolution masterpieces!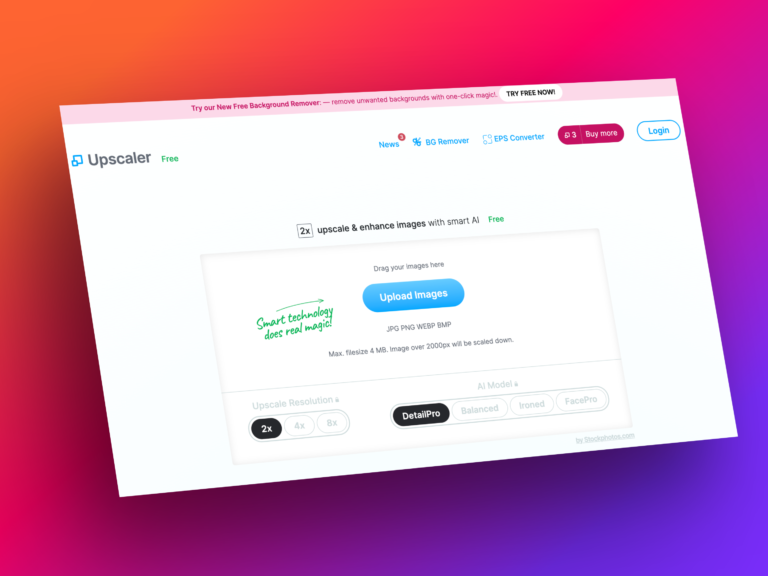 Stockphotos.com AI Image Enhancer: Cutting-Edge & Effortless
Free for 10 images – Paid packs from $5
Stockphotos.com presents an outstanding AI Image Upscaler directly on their site! Utilizing the most advanced AI tech, it enables you to augment and refine your pictures' quality instantly, providing 10 free image upscales! You're bound to adore this top-notch AI photography tool!
This gadget can elevate resolution by up to 8x, including clarity, smoothness, and contrast, for an unparalleled professional outcome – all with a single click. Guaranteeing pixel compression for an ultra-sharp final appearance, it eliminates noise and motion blur. Finally, the solution to obtaining a high-resolution image has arrived!
Observe an example of uploaded images upscaled 8x using Stockphotos.com Image Enhancer, and marvel at the real-time comparison between the original and enhanced results with a sliding bar! Employ the premium version for numerous images and generate multiple high-resolution outcomes within minutes.
A bonus feature allows social media cutout downloads, resizing your image to meet popular social media platforms' standards. Streamlining your photo preparation for social media has never been simpler!
Stockphotos.com Upscaler employs a drag-and-drop approach, making it incredibly user-friendly. Upload an image file and enhance its resolution. Compatible with JPG, PNG, WebP, and BMP files, upscale 3 images up to 2000×2000 pixels for free, enhancing them by 2x. Utilize their super-resolution tech for an entirely free upscaling process that generates larger images.
Super-resolution improvement, maxing at 8x, is accessible upon sign-up with affordable pricing: Prepaid packs of 20 upscales for $5, or 100 upscales for $15 – only $0.15 per image! This on-demand service requires no subscription and includes a batch process for simultaneous image upscaling, a feature not found in other tools. It takes just seconds per image, with almost unnoticeable quality loss. Download images in jpg/jpeg format for printing or use as high-quality textures or backgrounds.
But there's more! As a Stock Photo Secrets reader, receive 10 free image upscales just by signing up for AI Image Enhancer! Grab this deal before it vanishes!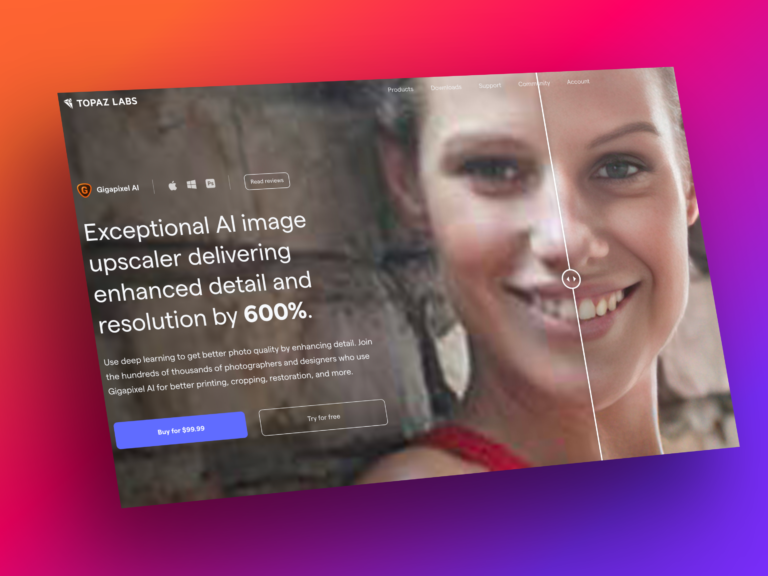 Gigapixel AI by Topaz Labs: Perfect for High-Res Batch Upscaling
Free trial for 1 image via email. Lifetime access at $99.99
Gigapixel AI, devised by Topaz Labs, is an ingenious image enhancement tool that boosts resolution without enlarging pixels. Using deep learning technology, it adds detail to images and can function as standalone software on Mac or PC, or as a plugin for popular image editing tools like Photoshop.
Experience it for free with a single image: enter your email address on their site to unlock the trial. Your processed image will arrive in your inbox!
Gigapixel AI is a premium, paid tool, available for a one-time purchase of $99.99, granting unlimited lifetime access to the version purchased, plus one year of upgrades.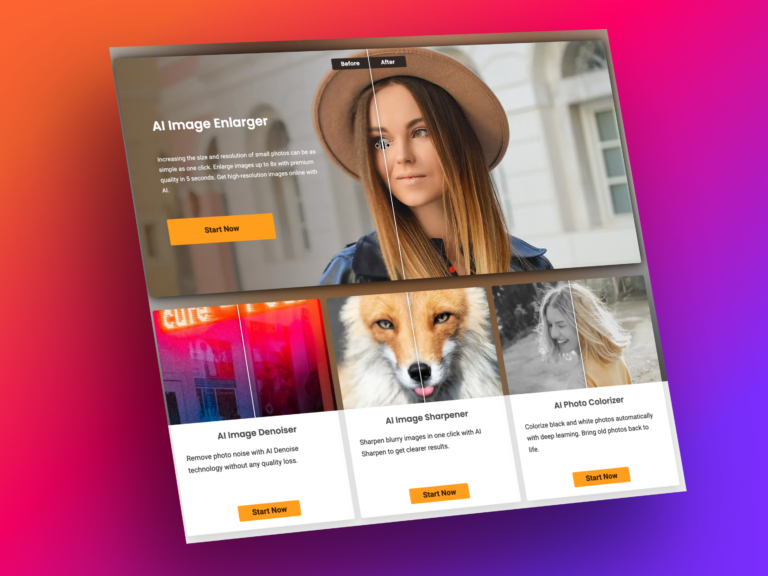 VanceAI Image Upscaler
Price: FREE for 5 images per month with watermark
Paid plans from $9.90/month
VanceAI Image Upscaler, another exceptional AI image upscaler, offers several key features. Firstly, the 8x AI image upscaler enlarges low-res photos without quality loss. Additionally, a dedicated AI anime upscaler specifically designed for small anime photos reaches up to 16x.
VanceAI Image Upscaler also includes security measures, deleting processed images within 24 hours.
Upscaling images with this tool is a breeze. Upload a photo, select the appropriate AI model and magnification level, and initiate upscaling to 2x, 4x, or 8x. Download the high-resolution upscaled image with ease.
Key features of VanceAI Image Upscaler include:

8x upscaling without compromising quality

Noise suppression and blur removal

Specialized algorithms for anime photo upscaling

Automatic compression and resizing for images exceeding 2000 x 2000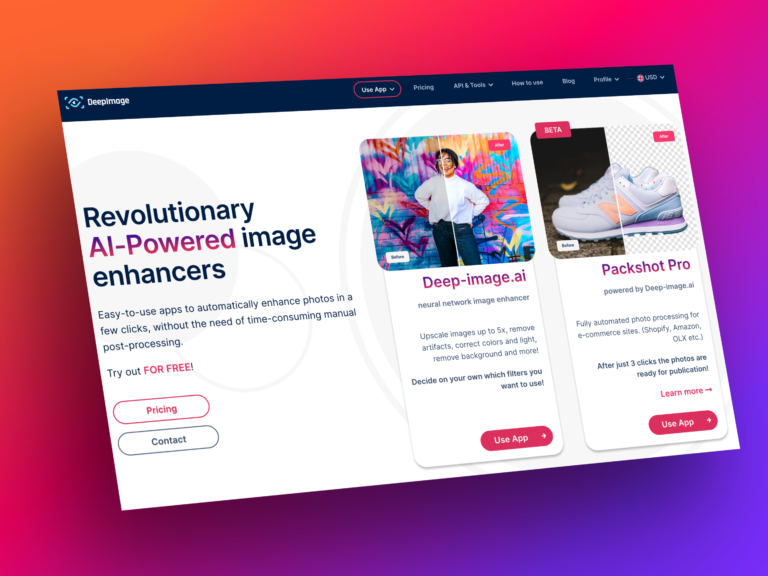 Deep Image AI
Price: FREE TRIAL for 5 images. Paid plans from $9/month – On-demand from $0.40/image
Deep Image AI is another fantastic AI image upscaler tool, compatible with both Windows and Mac OS. Designed for effortless online image upscaling, it's also easily accessible on mobile devices.
Deep Image is an image pixel amplifier that harnesses AI-powered super-resolution deep convolutional neural networks, which signifies the use of machine learning and artificial intelligence to enhance low-resolution images. It offers a mobile app, available for both iOS and Android, in addition to its web-based version, enabling image enlargement via your phone. It also supports batch processing and API integration, allowing for single-click 2x enhancements on numerous files, free of charge.
Note that the platform caps upscaled images at 5000 x 5000 pixels, or 25 megapixels, applicable to both registered and unregistered users.
Deep Image AI is user-friendly; simply navigate to the site, upload an image, and commence upscaling. Advanced AI algorithms drive its upscaling features, yielding natural-looking photos. Developers will find the API integration valuable, allowing incorporation of the upscaling tool into custom code projects.
Primary features of Deep Image AI include:
API support for developers

Bulk editing capabilities

AI-generated predictions

25-megapixel limit for upscaled images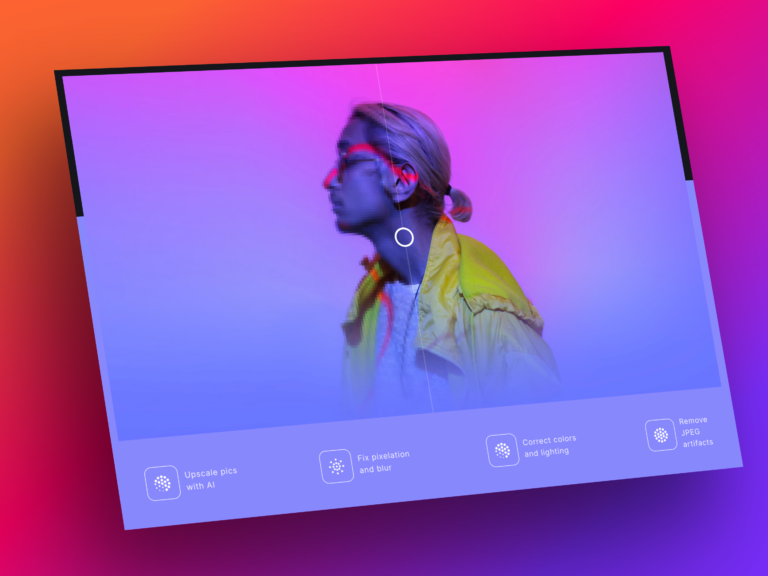 Let's Enhance
Price: 10 free enlarged images with watermark. Paid plans from $9/month when paid annually. Unused credits roll over.
Let's Enhance is an online AI photo upscaler capable of achieving 4K upscaling while retaining quality. The tool employs AI techniques to boost colors, recover lost textures and details, eliminate compression, and more. In total, Let's Enhance can upscale your photo up to 16x.
The tool provides a free version, requiring only that you drop the image onto the page to begin the upscaling process. It's one of the simplest AI image upscalers to use.
Leveraging AI technology, Let's Enhance excels at reducing noise and other artifacts in images, delivering professional and highly detailed photos.
Key features of Let's Enhance include:
4K upscaling without sacrificing quality

Enhancing colors, recovering lost textures, removing compression, and more

User-friendly interface

Noise and artifact reduction